The Kapisanang Kimika ng Pilipinas – Southern Tagalog, Inc. (KKP-ST, Inc.) launched its 49th Annual Convention that revolved around the importance of chemistry in advancing agriculture during the COVID-19 pandemic, which was held online via Zoom on 20-21 November 2020.
Prof. Joseph Carmelo K. San Pascual, KKP-ST, Inc. President, gave his welcome remarks and introduced this year's convention theme "Chemistry in Agriculture Amidst the Pandemic".
Prof. San Pascual further elaborated the conference objectives and its lifelong mission in harmonizing with other disciplines to fight food shortage and food security. He said "This conference aims to situate and establish the relevance of Chemistry to the Agriculture sector, particularly in addressing concerns on food safety and security – a pressing issue that was made even more challenging because of the pandemic. We are fortunate to have with us in this convention our invited speakers who are experts in their respective fields to provide us new insights, learnings, and takeaways from their rich professional experiences."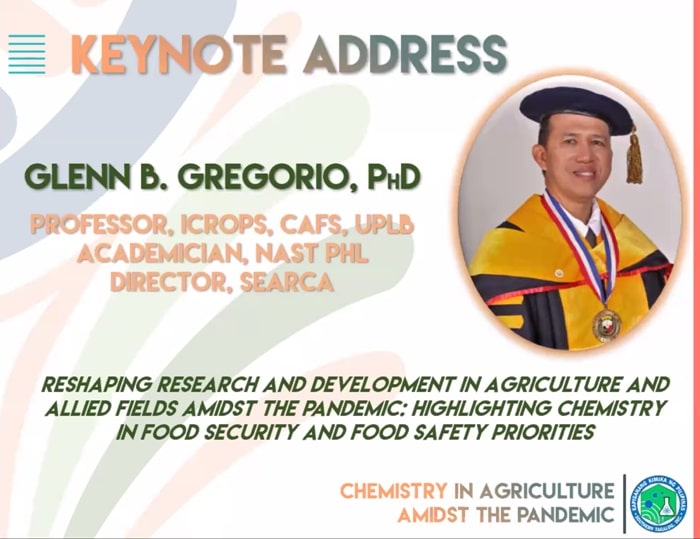 The virtual convention invited various experts, agriculturalists, and chemists to shed a light and spark a discussion among the scientific community. Leading the pack, Dr. Glenn B. Gregorio, the Director of the Southeast Asian Regional Center for Graduate Study and Research in Agriculture (SEARCA), delivered the keynote address that focused on reshaping research and development in agriculture and its allied fields amidst the pandemic by highlighting chemistry in food security and food safety priorities.
Dr. Gregorio started his presentation by sharing how SEARCA envisioned and realized its contribution in the science and practice of ARD in the region for the past years. He furthered how the Center is open to jointly define "forward-looking" with KKP-ST, Inc. and how both agriculturists and chemists can envision the transformative change in the ARD sector.
The SEARCA CEO also presented his Center's core programs and services. In addition, Dr. Gregorio introduced SEARCA's new paradigm towards accelerating transformation through agricultural innovation (ATTAIN) in line with its 11th Five-Year Plan (2020-2025).
Dr. Gregorio, who is also an Academician of the National Academy of Science and Technology (NAST) of the Philippines, presented the role of chemistry in food safety consideration in view of COVID-19, which was the centerpiece of his keynote address. "Current researches so far show that COVID-19 transmission is not associated with food. But it is important to find ways how chemistry could be further utilized to ensure that food safety measures are in placed across the agricultural value chains like farms to fork. We need some sort of a heightened awareness for more autonomous food safety measures to be observed at the individual and household levels. Moreover, we need more practical applications of chemistry for the general public to handle and prepare food safely," Dr. Gregorio emphasized.
Examples of proposed key priority areas for research in agriculture and allied fields for higher education institutions (HEIs) in the Philippines and the rest of Southeast Asia were also discussed by the SEARCA Director. He further shared that "the architecture of agricultural research themes and modalities is in place, but HEIs can further reorient their R&D from a business perspective toward systemic change of the agriculture sector."
The Innovations for Transformational Change were also given a spotlight during the virtual convention. The model includes conceptual innovation, institutional innovation, social innovation, technological innovation, and policy innovation. Dr. Gregorio said "it is important to emphasize that these needs of the farmers and their farming families is at the very core of the innovation ecosystems that we all envision to strengthen. And clearly, this means more innovative models that will span from value creation and delivery."
The Academe-Industry-Government (AIG) Interconnectivity Model was the next topic talked about by the Director. Linking his previous slides on the innovation model, he explained how partnerships with other institutions are crucial more than ever.
"Universities are where inventions happen. However, farmers' participation in the development of a new products or technologies are important to ensure that these are directly addressing the problems that our farmers are facing. When these technology generators are linked to the industry, markets open and opportunities for growth happens," Dr. Gregorio said.
The Academician finished his keynote address by reminding everyone their role in this COVID-19-led society. "We are key players in society's overall ability to achieve the aspired food security and economic development. But they can aspire to contribute beyond—toward an economic development that is sustainable, inclusive, environment-friendly, and most importantly, resilient to current and future pandemics and other unanticipated disruption"
Other speakers in the virtual convention included Dr. Lilia M. Fernando, RCh, a faculty of the Institute of Crop Science, College of Agriculture and Food Science of the University of the Philippines Los Baños (UPLB) and Ms. Lyka P. Verania, RCh, Product Specialist from Analytical and Scientific Instruments, Shimadzu, Corp. Prof. Arvin Paul P. Tuaño, RCh, also from UPLB, chaired the 49th Annual Convention