The Philippine Department of Science and Technology (DOST)-Science Education Institute (DOST-SEI) organized a webinar activity for the agricultural sector for Filipino Patriot scholars held online via Zoom on 23 October 2020. This project concludes the Part II webinar series under the Patriot Project with an overarching theme "Deepening Civic Leadership and Humanitarianism Among Patriot Scholars Through Sectoral Initiatives."
The webinar series include talks from experts in the field of education, health, livelihood, public service, environment, and agriculture. These activities were participated in by Filipino scholars from 16 regions across the archipelago. The sectoral webinar is part of the innovations of the Patriot Project that aims to hone the transformational servant leadership of DOST-SEI scholars particularly to discuss current challenges of the different sectors; present sectoral plans; analyze and assess direction of volunteerism; and to collaborate with co-scholars and other organizations and agencies to implement their initiatives.
Representing the agriculture sector, SEARCA Director Dr. Glenn B. Gregorio addressed the topic on ensuring food security and sustaining zero hunger beyond the global health emergency. He presented the Center's newly published paper titled "Assessing the impact of COVID-19 pandemic on agriculture production in Southeast Asia: Toward transformative change in agricultural food systems" that shows the disruptions in agriculture food systems create supply and demand shocks affecting immediate and long-term economic performance and food security.
"Our experience with COVID-19 has surely enabled us to rethink how we approach and view agriculture, how we view food production, and how we view food. Clearly, agriculture must not just aim to increase food production but also to improve the nutritional status of the population. We are convinced that there is a need for an accelerated transformation of the agriculture sector so it can be fully maximized for human well-being," he emphasized.
Dr. Gregorio also shared how SEARCA is even more resolved in its mission and vision of empowering institutions and championing partnerships towards agricultural and rural development in Southeast Asia through education and collective learning, research and thought leadership, and emerging innovations for growth are timely, given the current condition of the Southeast Asian region.
The Center's commitment to participate in the achievement of the following global priorities asserted by the international development and financial institutions to cover the biggest issues the world is facing and will be facing in the coming years: The 2030 Agenda for Sustainable Development Goals (SDGs), The Global Agenda of the World Economic Forum, and the Kuala Lumpur Declaration on ASEAN 2025: Forging Ahead Together were also presented by the SEARCA CEO.
One of SEARCA's core programs, the Emerging Innovation for Growth (EIG), was introduced to the patriot scholars. Dr. Gregorio highlighted that "EIG will be a gateway to the future of agricultural development as it builds open innovation and open science spaces that will serve as the venue for future trends and opportunities facing agricultural and rural development in Southeast Asia. These spaces will showcase and operate a platform–online and otherwise, systems or modular—to showcase agri-innovations, sustained best practices, emerging agribusiness models, and smart disruptive solutions to inspire all to confront future challenges in agricultural and rural development."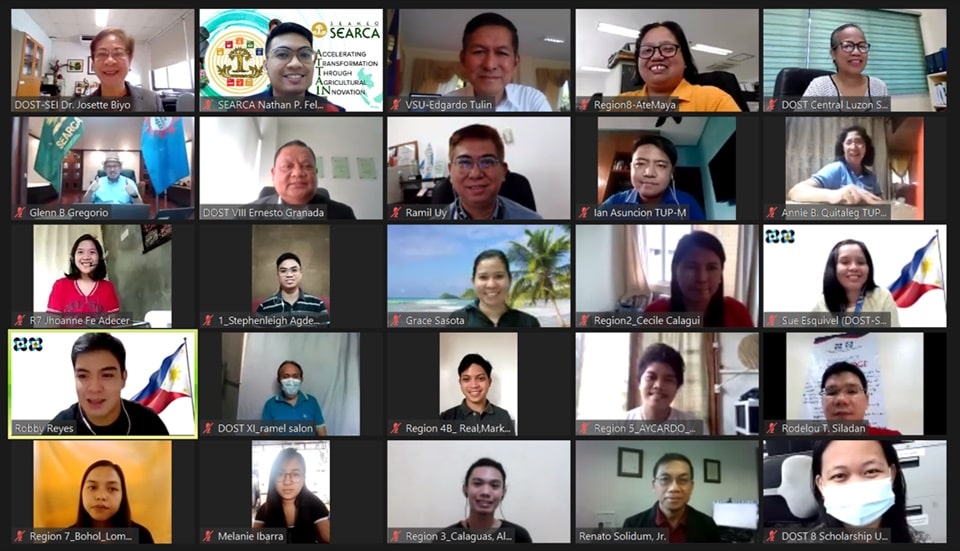 The presentation tackled the three components of EIG. One is the Open Innovation and Agri-Incubation that builds on the premise that advancements in agricultural technology, coupled with a changed policy and social consciousness are fundamental in changing the agricultural and rural development landscape. Another is the Knowledge and Technology Transfer that formulates and establishes intellectual property (IP) policies to ensure product and technologies reach the intended and ultimate beneficiaries. The third is the Project Development Monitoring and Evaluation that embarks on bolder and bigger programs with relevant partners to solidify its position as leading enabler of agricultural and rural development (ARD).
Dr. Gregorio ended his talk by highlighting the importance of the Academe-Industry-Government (AIG) Interconnectivity model in order to implement collaborative, inclusive, and well-communicated growth and development projects and initiatives that is highly relevant for DOST-SEI and its stakeholders and scholars to partake.
"The Center aims to steer a more partnership-driven and entrepreneur-minded SEARCA, championing technologies in agriculture and natural resource management for resilient and sustainable countryside development with healthy, food and nutrition-secure families and communities. Given the collaboration with and support of our partner institutions, like DOST, we can confidently make the strides that SEARCA has achieved so far even Better, Bigger, and Smarter."
The webinar also featured Mr. Antonio Meloto, Founder of Gawad Kalinga, who talked about mobilizing farmers in Batangas City. Succeeding Mr. Meloto's discussion were presentations on sectorial initiatives from Mariano Marocs State University, Philippine Normal University, and Bicol University.