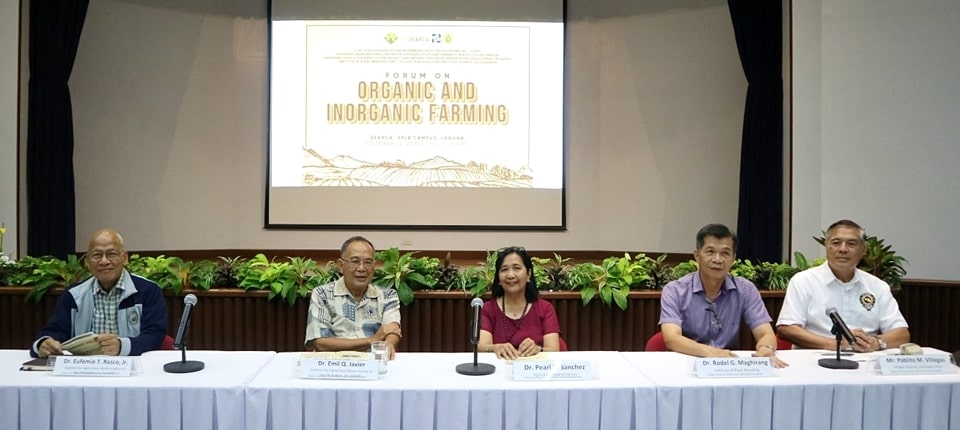 The speakers during the forum (l-r): Dr. Eufemio T. Rasco, Jr., CAMP member; Dr. Emil Q. Javier, National Scientist and Chair of the CAMP Board of Trustees; Dr. Pearl B. Sanchez, Director, Agricultural Systems Institute, UPLB College of Agriculture and Food Science; Dr. Rodel G. Maghirang, Director, UPLB Institute of Plant Breeding; and Mr. Pablito M. Villegas, owner and entrepreneur, Villegas OrganiKs and Hobby Farm.
"With enlightened moderation on both sides, we can enjoy the best of both worlds and make organic and inorganic farming work in the Philippine context."
Thus concluded Dr. Emil Q. Javier, National Scientist, in his presentation during the Forum on Organic and Inorganic Farming organized by the Coalition for Agriculture Modernization in the Philippines, Inc. (CAMP), in partnership with the Southeast Asian Regional Center for Graduate Study and Research in Agriculture (SEARCA), Philippine Council for Agriculture, Aquatic, and Natural Resources Research and Development (PCAARRD), and the Institute of Plant Breeding (IPB) of the University of the Philippines Los Baños (UPLB). The forum was held on 14 October 2019 at SEARCA.
Organic farming and inorganic farming have been on the opposite ends of a polarizing issue in agriculture. The forum, therefore, brought together esteemed scientists and practitioners in agriculture to give a balanced discussion on the science and practice of both organic and inorganic agriculture, and the ways and means for integrating the two opposite and often conflicting sides of farming to achieve food security. Moreover, it was organized to allow CAMP members and forum participants to formalize a position on which farming system is the most appropriate for the Philippines.
Dr. Rogelio V. Cuyno, CAMP Secretary, said that from the forum, CAMP hopes to come out with a policy paper highlighting the position shared with SEARCA, PCAARRD, and IPB; and a book of proceedings to be produced by PCAARRD based on documentation from SEARCA.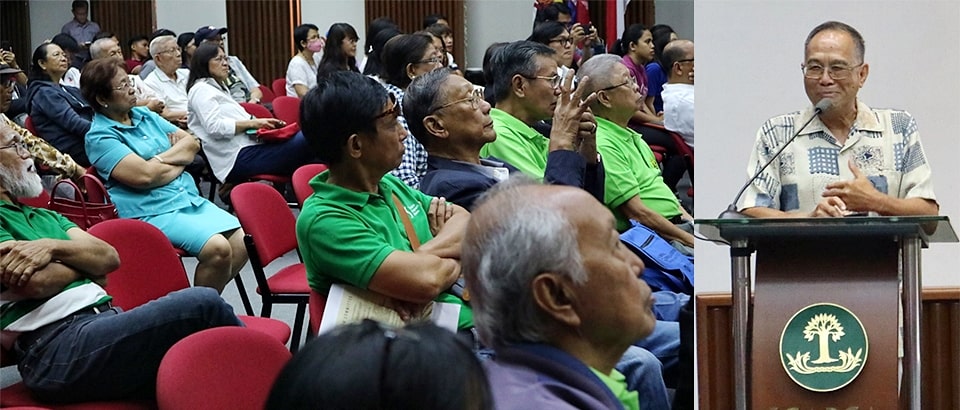 The participants intently listen to Dr. Javier's presentation on mainstreaming organic practices in conventional agriculture.
Aside from Dr. Javier, who gave a presentation on "Mainstreaming Organic Practices in Conventional Agriculture," other presenters included plant breeder and academician Dr. Eufemio T. Rasco, Jr., who presented "Scientific Bases of Integrated Organic and Inorganic Farming in the Philippines." Dr. Javier is the present Chair of CAMP's Board of Trustees and Dr. Rasco is a member of the Coalition. On the side of organic agriculture, Dr. Rodel G. Maghirang, IPB Director, discussed "Science and Practice of Organic Farming" while Mr. Pablito M. Villegas, an organic farming practitioner and entrepreneur, shared on "Experiences and Advocacies of Organic Farming." On the other hand, Dr. Pearl B. Sanchez, UPLB Director of Agricultural Systems Institute, presented "Science and Practice of Inorganic Farming."
To summarize the forum, Dr. Ruben L Villareal, former UPLB Chancellor, SEARCA Director, CAMP board member, and plant breeder, emphasized that combining the best practices from both types of farming may be the most appropriate approach for the Philippines to attain food security, which Dr. Javier and Dr. Rasco espoused in their presentations. Dr. Villareal also congratulated CAMP for a successful forum, particularly the organizing committee led by Dr. Tito E. Contado. Also present during the forum were Dr. Benigno D. Pecson, President of CAMP, who gave the welcome remarks, along with Dr. Maria Celeste H. Cadiz representing SEARCA Director Dr. Glenn B. Gregorio, and PCAARRD Executive Director Dr. Reynaldo Ebora, who gave their opening messages.